Thursday, September 11th, 2014
On the thirteenth anniversary of the attacks of September 11, Found in the Archives looks back at how our campus reacted and responded to the tragedy.
The first Maroon printed after the events, on September 14th, describes the scene on campus  in the morning as the attacks unfolded:
"The Danna Center was crowded with people sitting on the floor and leaning against walls, eyes glued to the television, waiting to hear news of the latest updates on the worst attack on America since the bombing of Pearl Harbor….There were tears; there were hugs; there was anger; but most of all there was shock."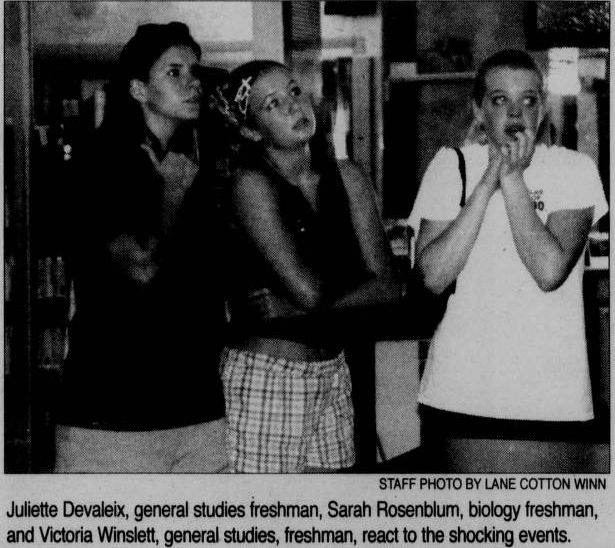 As the day unfolded some professors cancelled classes, but not all, as the university wanted to have somewhere for students to go, and have their professors available to them if they needed to talk.
University Ministry, Student Affairs and the Student Government Association quickly met that morning and organized community meetings and prayer services for the afternoon. Students also began collecting money for the Red Cross an donating blood as a gesture of support.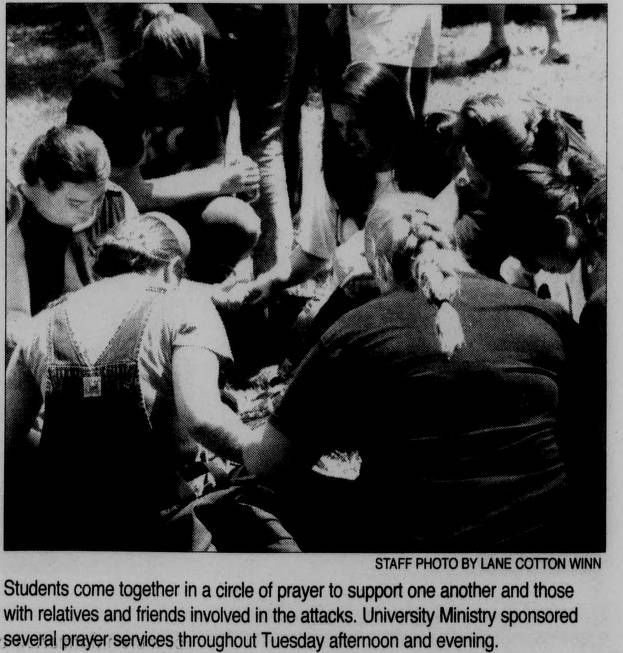 The confusion and fear was compounded when an erroneous bomb threat was called in to campus, causing the evacuation of several buildings.
Later that day Loyola's then President Rev. Bernard Noth, S.J. addressed students, faculty and staff on the Peace Quad.
As that awful day came to a close, Loyola's campus, like the world, could only wonder what would come next. A Loyola student told the Maroon:
"Now all we can do is expect the worst, hope for the best, and pray for the victims and their families."
You can read the entire September 14th issue of the Maroon here.