Spotlight: H.L. Mencken Letters
Sometime in 1927 Lou Wylie submitted a poem to The American Mercury, a leading journal of letters and opinion. On September 26, 1927 H. L. Mencken, editor of that magazine, wrote Wylie that her poem had been accepted and would appear in a forthcoming issue. Thus began a correspondence between the two that lasted over twenty years. The H.L. Mencken Letters collection preserves one side of that exchange–the letters written to Wylie by Mencken.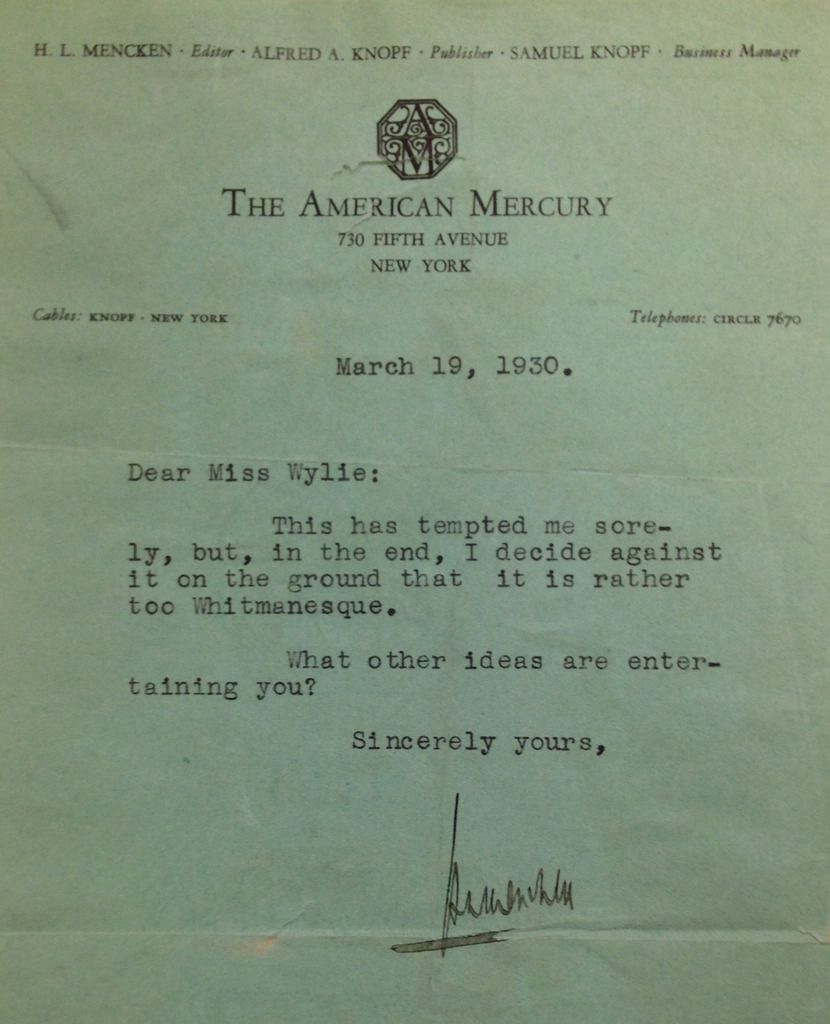 Wylie must have been flattered by Mencken's interest, for by 1927 he had established himself as one of the nation's leading writers.  Born in Baltimore in 1880, he began his career in 1899 as a police reporter on one of the local newspapers. His subsequent labors on one or another of the Baltimore dailies–as reporter, columnist, or editor–won him recognition as a talented and prolific journalist. In 1924 he helped found The American Mercury and served as its editor from 1924 to 1933. In addition, he found time to write many books, including The American Language, an important study of the English language in the U.S.
This prodigious output was marked by Mencken's aggressive iconoclasm and by his gift for invective; he was a formidable polemicist whose combative prose mocked the sacred and the conventional in American social, political, and literary life.
He was also an effective champion of aspiring writers. As the nation's most powerful literary critic, he discovered or brought to national prominence such talents as Sinclair Lewis, Sherwood Anderson, and Theodore Dreiser and encouraged others whose names and contributions have since been forgotten. Lou Wiley was one of the latter. She was probably born in Kentucky at the end of the nineteenth century. By 1927 she was a reporter and feature writer on New Orleans's leading newspaper, the Times-Picayune. At the behest of a Times-Picayune superior, she shortened her name from Louise to Lou because, as she recalled years later, "I was taking over a feature signed by a man and he seemed to think it would [lose] effectiveness with a feminine by-line."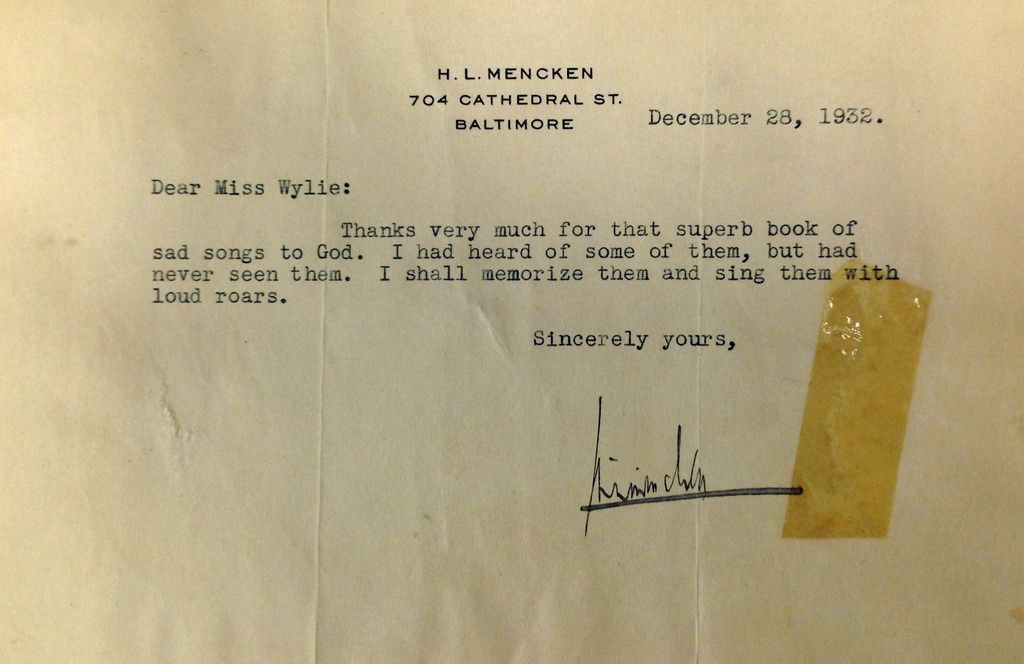 But whatever the attractions of New Orleans, in 1928 Wylie moved to New York City, where she worked as a journalist and publicist. At some point she married–Mencken began to address her as Mrs. Van Sicklen in 1941–though that union apparently dissolved in 1949. About 1941 she returned to New Orleans, where she handled publicity for Pan American Airways. Over the years she maintained her literary ambitions, but her accomplishments were apparently modest. During Mencken's tenure as editor, however, The American Mercury did publish at least two of her writings–the poem "Psalms of Love" appeared in the January 1928 issue; and the short story "Dance-Hall Lady" appeared in the July 1933 issue. The relationship between Mencken and Wylie was confined to correspondence; the two never met. Mencken's letters to her were, in general, brief notes" usually no more than a 3 couple of short paragraphs. In them he often encouraged her literary efforts and suggested publications to which she might submit material, and he often commented with mordant humor on topics as varied as publishing, literature, politics, religion, and his own health. His last letter to her was dated November 15, 1948.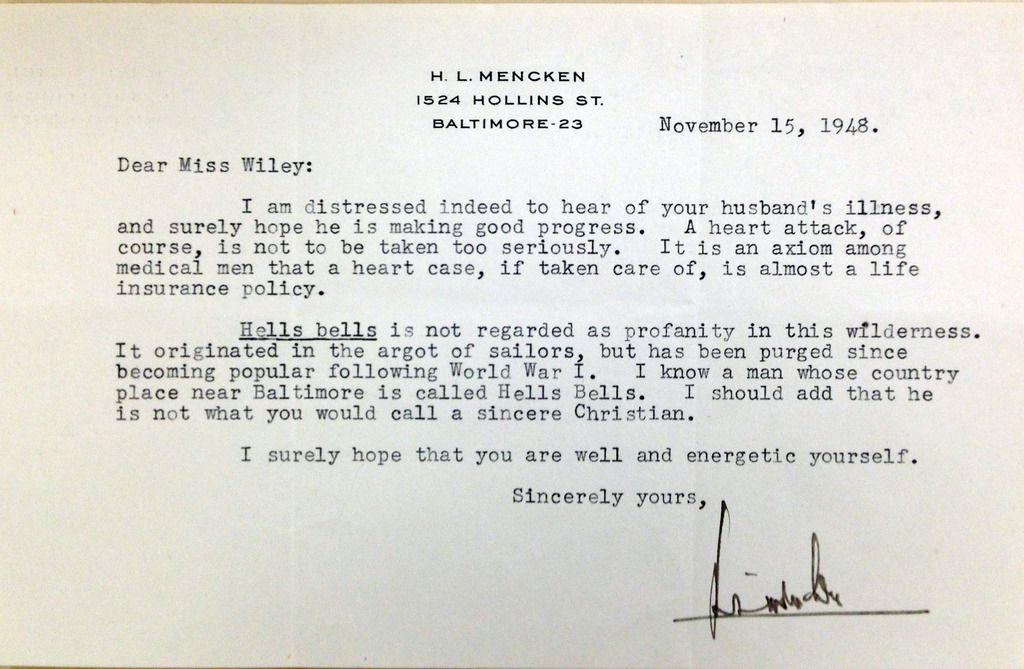 H.L. Menken's papers were given to the New York Public Library – including Lou Wylie's letters to Mencken – where they can be accessed today. Ms. Wylie declined to send her side of the correspondence to be a part of the collection, however. As she wrote in the journal Menckeniana in 1971:
" Original letters contain something of the person who writes them. My Mencken letters contain much to make their author come alive. I decided to keep them  in New Orleans. I presented then to Loyola University. There they are, in the library, for anyone who wants to meet him through his own words."
Come and meet H.L. Mencken through his words in Special Collections & Archives, located on the third floor of Monroe Library, Monday-Friday, 9:00-4:30.
Bonus Video – The only recording of Mencken:

____
Found in the Archives is a recurring series of crazy cool stuff found in the Monroe Library's Special Collections & Archives.