Tuesday, September 30th, 2014
Today Found in the Archives looks at one of New Orleans' most peculiar historical practices: Dueling.
Several volumes found in Special Collections and Archives tell the tale, including  Dueling in Old New Orleans by Stuart Landry.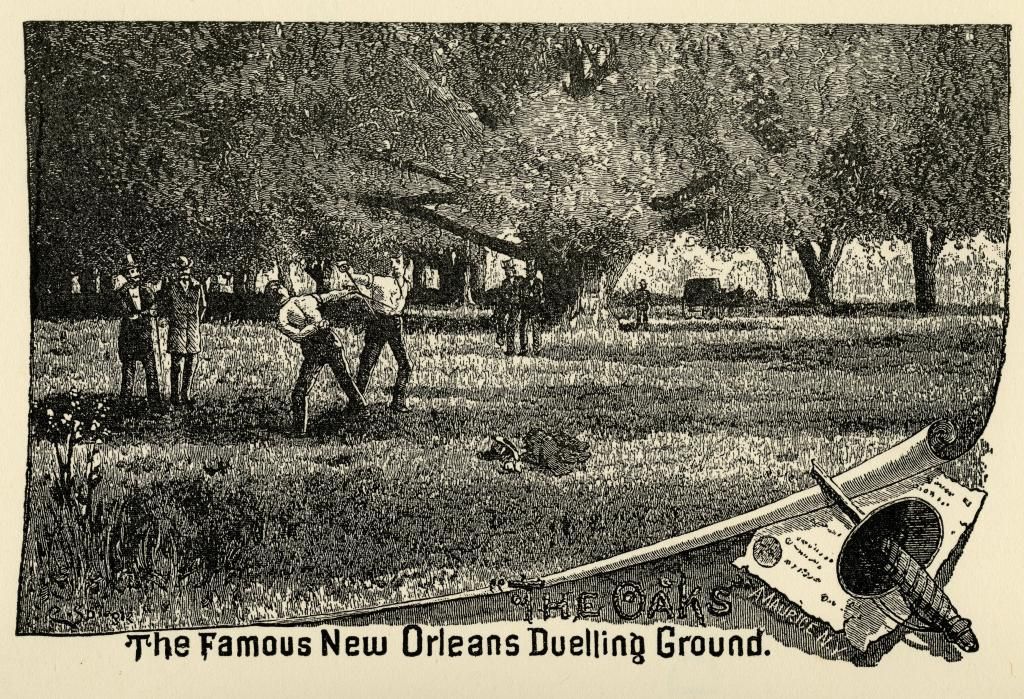 Landry notes that duels were different than simple fights between men, but were social events fought by men of equal standing according to strict rules, known as the Code Duello. Dueling was popular in England, Ireland, and other parts of the American South (indeed, the Code Duello was codified by the Irish in the 1777) but truly thrived in New Orleans society, especially in the early nineteenth century. Landry writes:
In old New Orleans you had to be careful what you said or how you acted. If you criticized the leading soprano at the French Opera or inadvertently spilled a little of your mint julep on the cuff of the gentleman standing next to you at the bar, you might be called upon to expiate these delinquencies on the field of honor. During the 1830s more duals were fought here than in any other city on the world.
Dueling could take several forms. Fencing was a popular early method of battle, and fencing schools sprung up in New Orleans to instruct the city's gentlemen in the art of rapier fighting. Most fencing schools were located in Exchange Alley, in the French Quarter.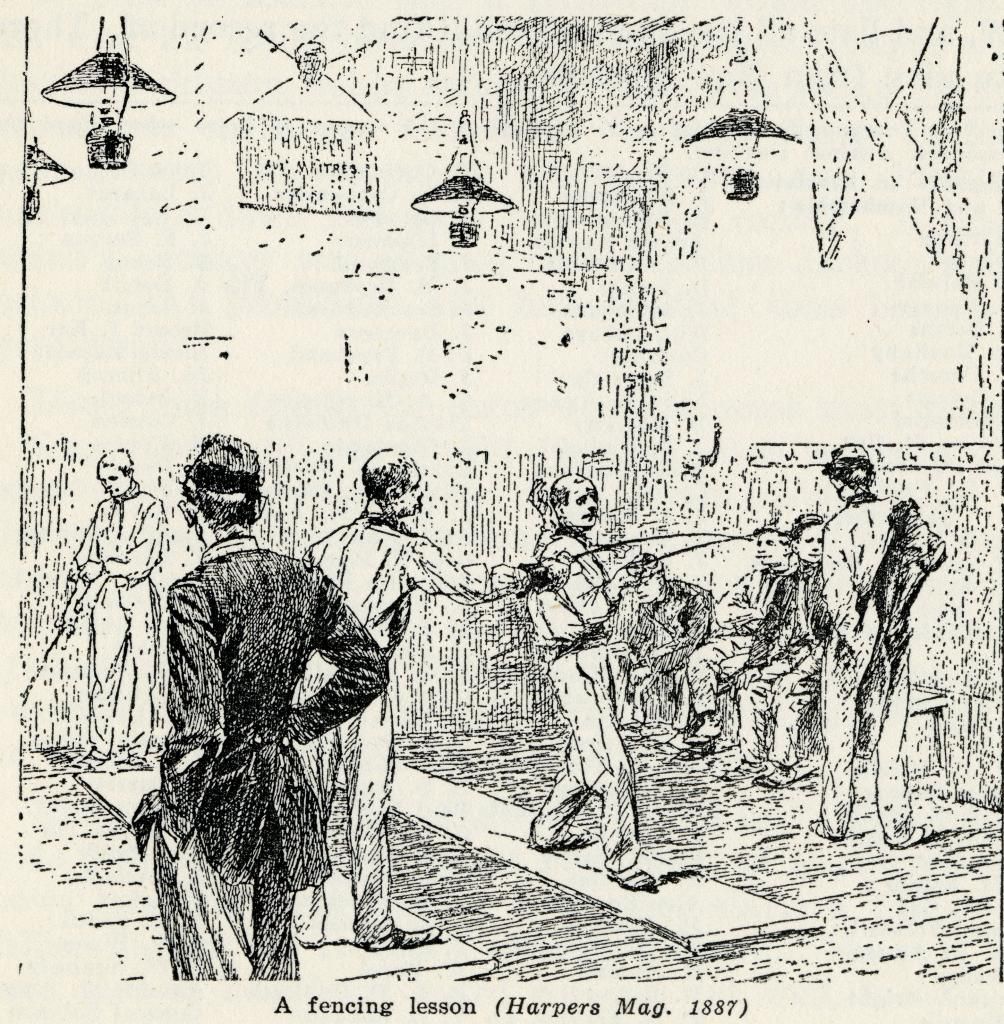 Hartnett T. Kane's Gentlemen, Swords and Pistols features a chapter on one of New Orleans' most famous fencing masters, Don José "Pepe" Llulla. A native of the Spanish Balearic Islands, Pepe Llulla had a famous fencing school located in Exchange Alley, as the 1846 New Orleans City Directory shows:

Don Pepe Llulla was legendary in New Orleans, even in his own time. Lafcadio Hearn's writings about Pepe Llulla and dueling are included in the collection of his writings  Inventing New Orleans. Hearn wrote that "while comparatively few are intimate with him, for he is a reserved man, there is scarcely a citizen who does not know him by name, and hardly a New Orleans urchin who could not tell you  'Pepe Llulla is a great duelist.'"
But fencing was not to remain New Orleanians preferred means of settling questions of honor. As Landry notes:
The early duels of New Orleans were fought with rapiers and swords…[b]ut when the Americans poured in to the city they took up dueling enthusiastically, and made it more deadly with the use of knives, pistols rifles and shotguns. With the rapier a slight wound was sufficient enough to satisfy honor, but where shotguns were used one of the duelists was nearly always seriously wounded or killed.
Dueling was not without it's critics. In 1834 the Association Against Dueling was formed in New Orleans, and laws were passed against it, but the practice continued on through the century. Duels were famously precipitated by the slightest insults, and Landry tells of combat undertaken to preserve the honor of opera singers, "fat" ladies and, strangely, the Mississippi River. Many duels were fought in what is now New Orleans City Park, at a spot still referred to as the "Dueling Oaks".
When Pepe Llulla died in New Orleans in 1888, the practice of dueling in New Orleans was also at it's end. Landry states that the last duel under the City Park Oaks met on June 22, 1889.  The pistol duel was quickly broken up by police and the participants arrested, thus marking the end of the Code Duello in New Orleans.
To access any of the sources discussed here, please visit Special Collections & Archives anytime Monday through Friday, 9:00 – 4:30.
Found in the Archives is a recurring series of crazy cool stuff found in the Monroe Library's Special Collections & Archives.